Projects
VERA's efforts are directed mostly at land use planning. We also comment on plans for development and work on regional issues. We do find time, however, to take on various projects.
Stream Monitoring
: VERA has partnered with several girl scout troops to monitor the health of waterways in our area. So far, we have concentrated on the stream at Lion's Lake, where testing indicated good water quality. In 2001, we participated in the Snapshot Program, run by the Delaware River Basin Commission. We are hoping to expand the program to include waterways throughout the Township, and to increase the number of youth groups and adult volunteers. Please e-mail us at
Board@veravoorhees.com
, if you would like more information. Click on the icon below to learn more about the Delaware River Basin Commission and the Snapshot program.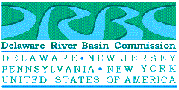 Seedling Planting: Boy scouts throughout the area showed up in the early morning hours to plant 600 tree seedlings at Lions' Lake and the John Connelly Memorial Park. This VERA project was made possible through the energy and efforts of our local youth, and through the generous donation of seedlings by the Aducat family.
Community Education: Every spring, VERA volunteers staff a table at the Voorhees Township Picnic. Residents who visit us can observe macroinvertabrate and other forms of life that inhabit waterways, and can take free literature regarding environmental issues. We offer perennial plants for sale at the picnic.
Dedicated VERA volunteer Pauline Knaeble Williams authors a column on environmental issues that is published monthly in the Voorhees Trend. To see back issues of columns, click on "Did you know. . .?"